A few days ago specs and images of a phone believed to be the OnePlus 7 Pro were leaked on the web. The device is said to be one of three scheduled to be released by OnePlus in a few months with the other two being the OnePlus 7 and the OnePlus 7 Pro 5G.
A new leak has surfaced in the form of a poster which confirms there is indeed a phone called the OnePlus 7 Pro. The image also reveals the tag line for the phone and teases the camera too.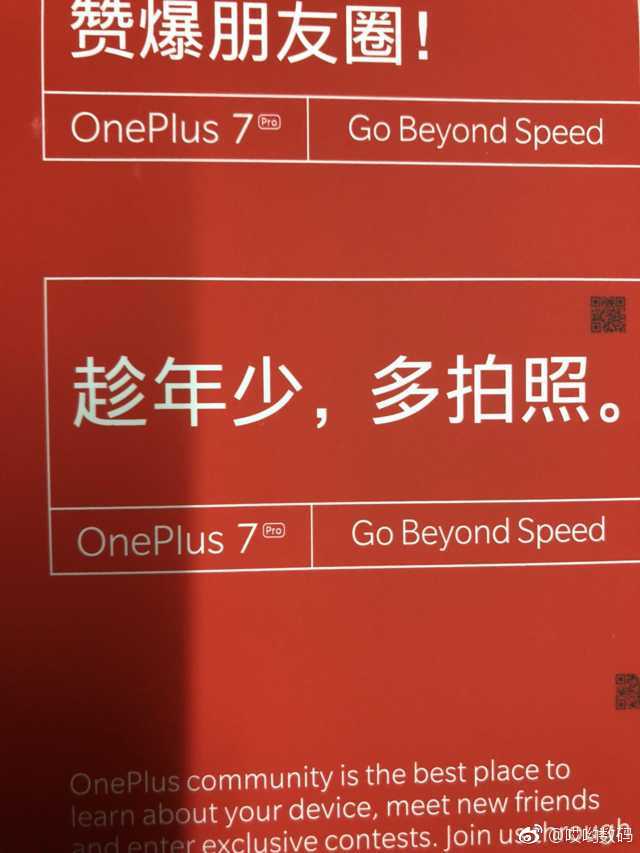 The tag line for the OnePlus 6 and OnePlus 6T is "The Speed You Need" and "Unlock The Speed" respectively. The OnePlus 6T McLaren Edition even has its own tag line – "Salute to Speed". For the OnePlus 7 Pro, OnePlus has adopted the tag line "Go Beyond Speed".
OnePlus phones are really fast compared to the competition. Some reviewers have even said they are faster than Google's own Pixel smartphones which run pure Android. OnePlus itself never fails to emphasize how fast its phones are. From adverts comparing it against the competition to controversial street speed challenges.
There is also a text on the poster that teases the phone's camera. Although it doesn't reveal any important detail but it is one of the highlighted features of the device. The phone is expected to come with a 48MP + 16MP + 8MP triple rear camera setup.
READ MORE: OnePlus CEO Pete Lau says Fancy colored glass variants are not selling well
The OnePlus 7 Pro will have a curved 6.67-inch Super Optic AMOLED display, a Snapdragon 855 processor, 8GB of RAM and 256GB of storage. It will run Android Pie out of the box with a new version of OxygenOS.